John Walson Obituary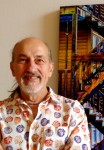 October 23, 1933
-
November 30, 2018
Born in Flint, Michigan
Resided in

Chicago

,

Illinois
Obituary
John Andrew Walson, 85, of Twin Lake, Michigan, passed away on November 30, 2018 in Chicago, Illinois.
John Walson was born in Flint, Michigan to Anna and John V. Walson on October 23, 1933. He studied art at Flint Junior College and then received a Bachelor of Fine Arts from Cranbrook Academy of Art. He continued his studies at the University of Michigan where he received a Master of Fine Arts. He married Kathryn Ann Buddenbaum on December 20, 1969 in Muskegon, Michigan.
During a time of peace, John served nearly two years in the army while stationed in Arizona. During the first year, he taught teachers to teach and the second year he worked in the graphic arts unit. For the next 34 years, he taught art. He began his career at a high school and then taught for 32 years at Muskegon Community College, in Muskegon, Michigan. At MCC, he taught drawing, painting, printmaking, art education, and film making. Additionally, he made props for theatrical productions as well as designed college posters, programs, and logos.
After his retirement, he devoted his time to making art in his home in Twin Lake, Michigan. He developed and expanded a personal drawing technique, using wax crayons on colored magazines and then removing or softening the patterns with turpentine. After a few years, he turned to photography where he enjoyed distorting the colors and structures of images.
John is survived by his wife, Kathryn Walson, daughters Joslyn (Charles) Jelinek and Janna (Philip Winston) Walson, and grandchildren Vivian Jelinek and Dulcinea Walson-Winston, all of Chicago. Additional survivors include Eleanor Lechman of Warren, Michigan as well as several sisters-in-law, brothers-in-law, nieces, nephews, great-nieces, and great-nephews.
He is preceded in death by his parents John V. Walson and Anna Drenovski Walson, and his sister Virginia DeFrain.
Memorial service Saturday, March 23, 2019, 11am, Muskegon Community College.
In lieu of flowers, donations can be made to the Brain Support Network, P.O. Box 7264, Menlo Park, CA 94062. https://www.brainsupportnetwork.org/donate/
Arrangements by Cremation Society of Illinois, 773-281-5058 or www.cremation-society.com.
To plant a tree in memory of John Walson, please visit our
Tribute Store
.
Services
To plant a tree in memory of John Walson, please visit our Tribute Store.
Memorial Service
Memorial Service
221 Quarterline Rd
Muskegon
,
Michigan
49442