Pepper Giese Obituary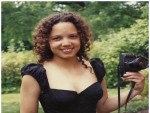 January 27, 1969
-
September 18, 2018
Obituary
Pepper Giese was born in Chicago on January 27, 1969, and died in Chicago on September 18, 2018, following an asthma attack. She lived her 49 years to the hilt with theater, singing, song-writing, poetry, photography, and painting-- while still finding time to make her living as a social worker.
At age 3, Pepper (then known as Kristin) attended Ancona School in Hyde Park. From the moment she could hold a pencil in her hand, she wrote stories, letters, poems, and more. After Ancona, she attended Co-operative School #3 and Robert A. Black School in South Shore, where she continued to write and expanded her artistic repertoire to theater.
At age nine, Pepper and her family moved to Evanston. At Evanston Township High School, she participated in every theatrical endeavor available, from ushering to stagecraft and set design; but she especially loved singing, acting, and play-writing.
Pepper attended Lawrence University in Appleton, Wisconsin, and received a B.A with honors in Theater Arts. For her Honors Thesis, she wrote and directed Tricks of the Labyrinth. She also won the President's Award for Outstanding Achievement and a grant to write another play, Mis-Happenchance Chances of Addicts to Love.
As she entered her third year at Lawrence, Pepper realized it might be hard to make a living in theater, so she enrolled in a program that let her go directly from her junior year in college to graduate school. In the fall of 1989, at age 20, she enrolled at the school of Social Service Administration at the University of Chicago and received her Master's degree in 1991. While studying social work, she joined Chicago's Theatre o' th' Absurd and remained active with it until her death.
With two degrees under her belt, Pepper spent the summer of 1991 exploring the Northwestern U.S. and Canada in an old camper. En route, she met and married a Czech man, Jan Morong, and they detoured to eastern Europe and spent the autumn touring. The wonders of ancient Greece inspired Pepper to another art form, photography.
On her return to the U.S., Pepper began her social work career, which covered child welfare, foster, and adoptive work; addiction counselling; and individual and family therapy.
In 1995, Pepper embarked on yet another art form. While driving on Washington Boulevard in the Austin neighborhood, her heart "skipped a beat," as she described it; she fell in love with a dilapidated Victorian house. Together with a partner skilled in construction, she bought the place and began to renovate. When the house's windows needed to be replaced, Pepper couldn't bring herself to throw the old ones out, so she painted on them, creating "glass art." The first show of her new creations was so successful, she began holding art shows three times a year. Some of her glass art won prizes, including First Place in the "Self-Taught" category at Columbia College Chicago in 1998. Meanwhile, her poetry was being published and winning prizes.
Pepper's art shows at Gallery Cabaret often included even more of her art: song-writing and singing, frequently accompanied by her own playing on accordion or guitar.
On a family trip in 1998, Pepper fell in love with Italy and then with an Italian man, Mirco Lapadula. They married in 2002 and Pepper began dividing her time between Chicago and Italy--while exploring other parts of Europe and the Americas. To stretch her social worker's salary, she often camped, using her tent or jungle hammock. She loved the land, and in the summer of 2018, she started a Community Garden in the vacant lot next to her house in Austin. In the months before her death, Pepper traveled to Italy, Slovenia, Croatia, and Spain (where she completed a permaculture program). Just before she died, she'd spent the afternoon taking photographs in Millennium Park.
Pepper is survived by her mother, Fay Clayton; her father, Allen Giese; her sisters, Kim Clayton Giese and Suzanne Clayton; her step-parents, Lowell Sachnoff and Arlene Giese; and a host of beloved aunts, uncles, and cousins. Her life will be celebrated on the day that would have been her 50th birthday, January 27, 2019, at the Unitarian Church of Evanston from 3:30 to 4:30 p.m., followed by a reception at her mother's home.
To plant a tree in memory of Pepper Giese, please visit our
Tribute Store
.
Services
To plant a tree in memory of Pepper Giese, please visit our Tribute Store.
Funeral Home
Chicago - 53rd Street
1374 E. 53rd Street
Chicago
,
IL
US
60615